IT must be transformed into business and business department speed. All companies today face a triple transformation: digital, customer and sustainable. These three transitions need to be completed simultaneously, and technology and business leaders need to work together and renew their approach to adapt. This is especially difficult for CIO (Chief Information Officer or Chief Influence Officer), CTO (Chief Technology Officer or sometimes Chief Transformation Officer), CDO (Chief Digital and Chief Information Officer). Beyond the short form soup, our recent research on the maturity of technology leaders shows that:
59% of companies are still in the early stages of "traditional IT" maturity
33% of companies are in the middle "modern IT" level
… And only 8% mature and we've reached the "future-fit IT" stage that really allows them to adapt and be creative and resilient
This is exactly the percentage we find at the customer-centric level. Is it easy interaction or real reason? Join us for a morning of discussion and networking that Forrester is hosting and find out April 20 from 8:30 a.m. to 1 p.m. In its dignified premises House of Polytechnicians With the program:
Feedback from EDF on how to establish your leadership to support your company's transformation. I would respect the interview Elena Badetz, Director of Tertiary Services at EDF. Since 2020, it has integrated a major third profession (HR, accounting, energy purchasing, vehicles, etc.) around innovative leadership for a performance model and sustainable performance.
Feedback from TRANDEV on how to value data. Nora Majdo, in charge of our B2B team, will be interviewing Stephen Dukes, Director of Digital, Data and IT Transdev, and Xavier Aymond, Customer and Innovation Director From Transdev.
Synthesis of the latest Forrester research, data and best practices in French Serving Chad Routh, Chief Analyst, Global CIO Team and Stephen Roger, Executive Partner, CIO.
Discuss the best practices between a live networking exchange and lunch peers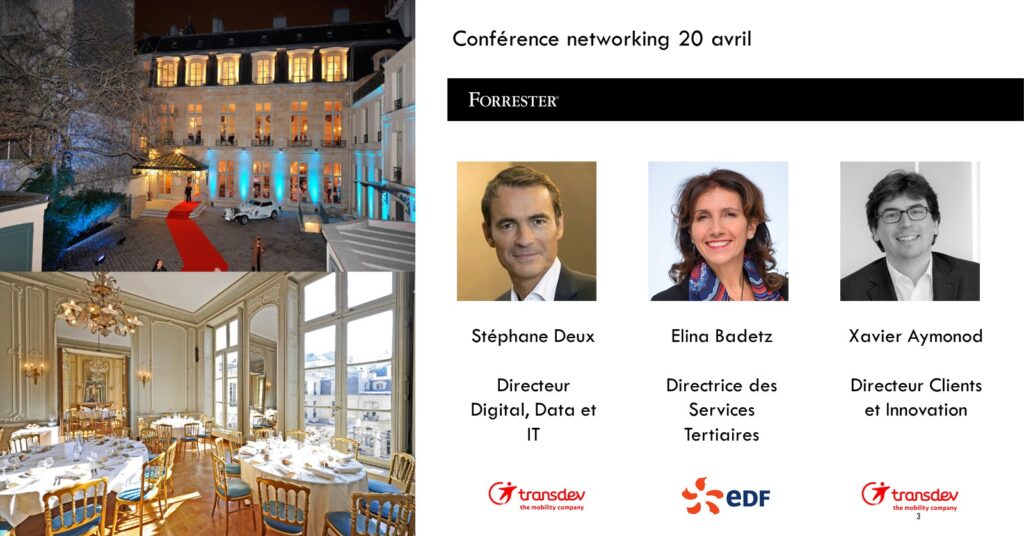 This event is exclusively reserved for about fifty CIOs / CIOs / CTOs / CDOs and technology leaders, if you are interested please contact me directly.