For European CIOs, CTOs and Chief Data Officers (CDOs), the war in Ukraine and the sanctions imposed on Russian and Belarusian actors mean that you need to rethink your approach and adjust your contingency plans. According to recent estimates, more than a thousand European companies employ more than 2 million people in Ukraine. In our recent conversations with customers about their plans, two distinct groups can be identified. The first group believes that the conflict will not significantly affect their immediate activities. The second group has already begun reviewing their agreements and activating their emergency plans, including asking their service providers to move projects from Ukraine to other European locations.
The impact on nearby resources depends on which provider you work with
Below, Forrester has compiled a list of major service providers with extensive operations in Belarus, Russia and Ukraine. This list is by no means exhaustive, but it is a useful starting point. If your company works with one of these suppliers in Belarus, Russia or Ukraine, you can expect one of two situations: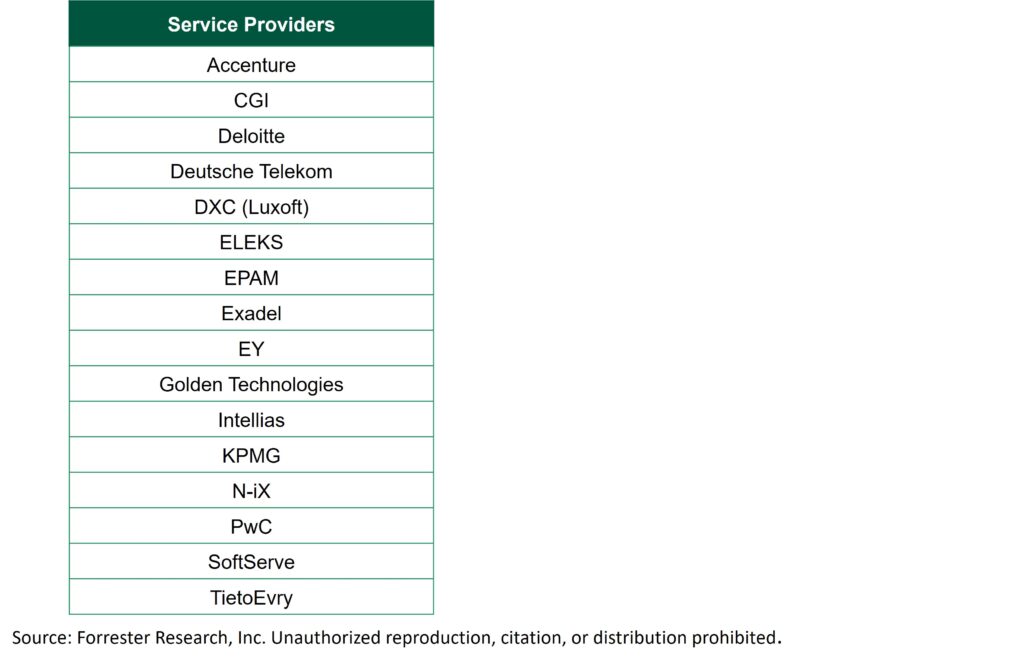 Important service providers with extensive business activities in Ukraine, Belarus or Russia.

Large global service companies will resume operations elsewhere. You can be sure that global service providers (such as Accenture and PwC) have comprehensive business continuity arrangements for all important business processes. One of these actions is to relocate to one of their other locations in Eastern Europe or elsewhere, to recover, to continue, and to resume business activities.

Smaller regional providers may have less opportunity to relocate their business activities as quickly as possible.

If you work with a small regional vendor like N-iX or SoftServe, you need to assemble a team (as you did in the early days of the COVID-19 lockdown) and create a recovery plan that includes a remote work strategy.
If you haven't already done so, take the following steps:

There is

u

Direct:
Contact your nearest provider about how and where to recover their business activities.

The situation in Ukraine will change quickly and you will need to ask your service provider to relocate further away from the conflict, such as in Ireland or Portugal.

Identify a project sponsor within your internal team

. You need someone with your knowledge and authority to oversee the execution of the steps required for a business continuity plan.

Examine the underlying communication and information exchange protocols.

As with any business continuity plan, you need to make sure that you have the correct primary and secondary communication methods, as well as a clear accountability matrix (RACI chart) so that you do not get stuck waiting for input from any stakeholder. Again not accessible. For more general guidance on enterprise resilience, Forrester customers should read this report.