When I think of Austin, Texas, I think of one of the best cities in the United States. Pictures of tacos, breweries and music festivals like SXSW and Austin City Limits come to mind. After all, it's a great big salad bowl for creative people who have come together to make Austin look weird – and it works! Maybe that's why Forrester is returning to this vibrant city to host his B2B Summit North America event (happening May 2-4 this year).
Just as multiple components combine to make Austin a destination city, revenue engine components should be aligned to enhance and enhance the customer experience. Companies should ensure that their marketing, sales and product team efforts are coordinated at every stage: strategizing, creating, activating and measuring. The key is to know the dependencies and how all of these functions can be combined and ensure an integrated customer journey.
For example, illustrate this: you have a brand new campaign launched through marketing, complete with an amazing content and distribution strategy, gathering around a new product. Product and marketing teams are celebrating, but sales are scrambling to figure out what to do with all these new "content."
Was there a sales activation plan, and was the team contacted? Do they have the resources needed to help with the campaign? Did marketing and product sales take into account priorities and main objectives when this campaign was planned?
Are you familiar with the Forrester buyer-linked sales process structure and the role of the seller in the customer journey? This framework accelerates the buyer's journey to both sales and marketing, helping the buyer understand who the buyer is and what they need at each step of the process. For example, it expresses reliance such as the type of asset that the sales team uses when engaging with buyers and how it can have a huge impact on the performance of the sales product.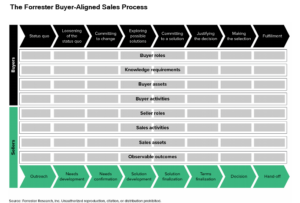 If your revenue engine functions are not focused on the same strategic goals, growth will be a big challenge. A lined company translates into higher profits and faster growth.
We're here to help you avoid repeating these or similar situations and answer any questions you may have about this framework (and others!). Forrester Consulting Experience Rooms is back at the B2B Summit. This year's "experience" consists of four rooms: Tact, Creation, Activate And To measure. These interactive experiences will give you the opportunity to "try" the research you hear about in sessions, apply it directly to your situation and have some fun doing it!
In Tact We will help you translate the business objectives you need to achieve as a room, sales, product or marketing leader. Take this purpose Creation Room, where we will create resources and processes that support the market offer and then complement it with the received practices Activate Homes for reaching and transferring buyers as well as sales empowerment. Finally, examine the metric types and evaluate whether what you are measuring reflects best practice. To measure Room These four rooms are designed with hands-on exercises to go with a better understanding of where you can strengthen cross-functional alignment across product, sales and marketing functions.
As a bonus, pop into the B2B Summit North American Forrester Consulting Experience Rooms, and you'll probably also get recommendations from our local consultants where you can get the best tacos, see the best art, and listen to live music!