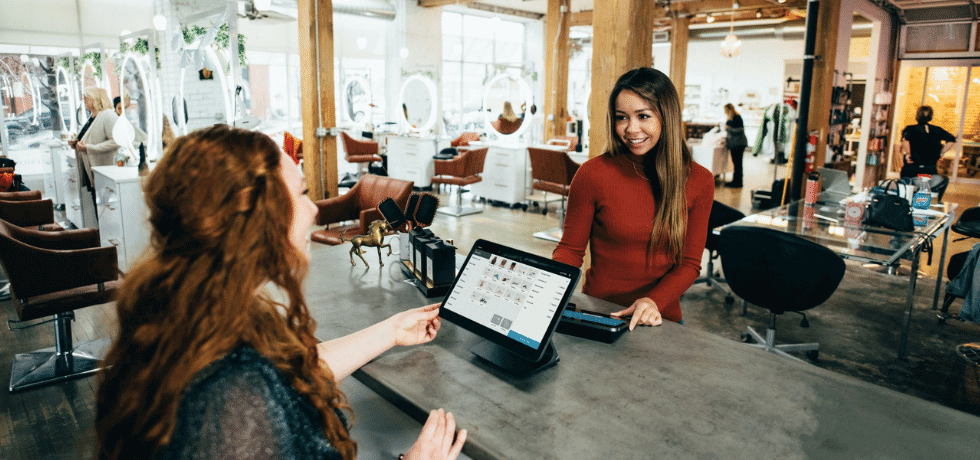 Customer expectations drive a business toward success or lead to its eventual failure.
It's all about how well you handle them.
According to the SalesForce "State of the Connected Customer" report, 63% of consumers
expect businesses to know their unique needs and expectations. It's not easy, but if you know your customers' expectations, you can fulfill or even exceed them. This will make your clients spend as much as 140% more
with your business.
How do you get there? First, it is important to know exactly what customer expectations are. Here is a clear definition:
What Are Customer Expectations?
Customer expectations are defined by what the customer wants from a product, service, or organization. These are based on the individual's past experiences and the knowledge derived from them.
Expectations start from the moment a potential client is introduced to your brand. This is when clients form opinions regarding your product's price, benefits, packaging, marketing, etc.
How to Identify and Manage Customer Expectations
Next, we will learn how identifying and understanding customer needs can lead to good customer expectation management. This only happens if we focus our entire process on a user-centric marketing approach, which we will tackle in the following paragraphs.
1. Understand your customers' unmet needs
Brand positioning plays a crucial role in meeting customer needs and creating new ones—challenges your company must meet.
Here are some questions to consider:
What is the value that your product offers?
How does it add value?
How is your company different from its competitors?
What makes you stand out?
How can you succeed when others fail?
The position your competitors already hold defines your position in the marketplace.
Don't try to beat them.
Instead, stand out by being different. Introduce features your competitors don't offer or consider addressing a smaller audience.
You also need to ask yourself who buys your product. What hobbies do they have? Where are they from? Why did they sign up for your service at 2 AM? Small details are important.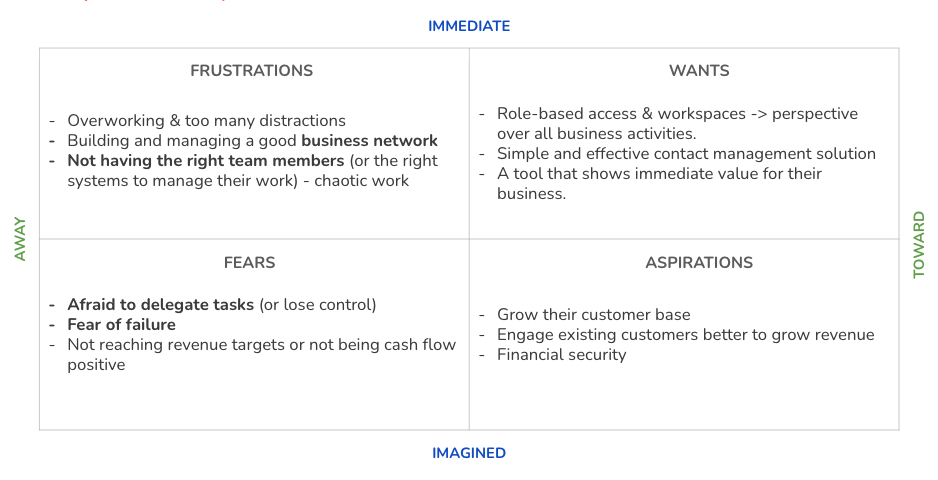 Keep in mind that your buyer persona isn't fixed.
Understanding client needs is the first and most crucial step towards success. If your brand positioning process is spot-on, then your product will fit into the existing market seamlessly. Success lies in anticipation: know what your clients want before they do.
Over time, an iterative approach to your product will help you define and redefine your brand positioning.
Next, let's get into customer needs.
Product-oriented needs
Pricing: This is the market value of your product.
Functionality: These are the features that solve a problem. Is your product safe? Is it reliable? Is it effective?
Service-oriented needs
You should know how to meet your client's emotional needs.
Key information about your product: This can be offered as relevant pieces of content along the sales funnel (FAQ, "How To" videos, anything which will make customers feel confident using your products or services).
Proof of empathy: This includes how you handle complaints, how good your client communication process is, how often you offer help, how you collect feedback, etc.
2. Collect and apply customer feedback
Nothing is more useful for your future product development plans than customer feedback.
The key to getting relevant information is timing: you need to determine where each client is in their sales journey and collect information from them that applies to that specific stage.
For instance, if they have been using a feature for a long time, there is no need to send educational content because that might be redundant. Instead, tell them about a new product they might like or an upcoming feature.
Track site clicks, email clicks, open rates, and anything else that gives you an insight into repetitive behavior.
Run focus groups to get detailed feedback on specific product features, track discussions across social media to see what's trending, and automate feedback surveys.
Don't just stick to the usual questions.
These become repetitive, and people might refuse to answer. Create a personalized set of questions. When you implement the changes that clients have suggested, evaluate them to see if any have triggered a change in their perception of the product.
3. Stay ahead of the competition
Competitors influence your customers' journey. Even after your product hits the market, you must constantly develop new features or improve existing ones to keep it relevant.
Monitor everything your competition is doing:
How and when do they tap into new markets?
What new product features have they introduced?
When do they schedule releases?
Create focus groups or a side-by-side analysis of your product vs. main competitors to identify weak points in either product or to discover market gaps.
Also, check out their social media channels:
Do they respond to every user question?
How often do they receive positive customer feedback?
Do they have reviews on the most common review platforms, like TrustPilot
and Capterra?
Anything they do, do it better.
4. Be transparent
Since 81%
of people surveyed say that trust plays a key role in their purchasing decisions, you need to be upfront with potential delays in delivery, launch date modifications, or anything that might negatively impact your business.
Letting customers know that you've made a mistake will not damage your business, but not being straightforward will. If you make an error, own it, and communicate with your clients. Tell them you are working hard to find a solution and send constant updates.
Transparency builds trust, which ultimately boosts brand loyalty.
Always publish the latest news about your products and your company on your website, and, whenever you can, include social proof in client communications. Clients don't expect your products to be perfect. They want to be heard and included.
5. Stay flexible
As clients adapt to new products and services, so too should your business adapt to customers' changing needs. Just because a strategy has worked well for your business doesn't mean you can't do better. Step out of your comfort zone and seize new opportunities.
Flexibility is about being there for your clients when they're going through a rough patch.
For example, offer them a personalized payment plan, a new way of contacting customer support if they're having trouble, or simply stay in touch without trying to land a sale.
If you're looking to seal the deal in a business relationship, then pay close attention to customer requests, anticipate new ones, and be flexible with what you can offer—that goes a long way.
6. Create an effortless buying experience
Your clients need to find the information or product they want on your webpage within 1 minute. Anything beyond that is a waste of their time, so make sure you structure your content around the following ideas:
Build your site using intuitive navigation, make it accessible to all users and use visitor feedback to implement changes;
Display a consistent brand message across all communication channels;
Consistently update site pages to display the latest information.
How meeting customer expectations can influence your business
In the past, customer expectations were fairly basic: clients wanted fair pricing and reliable services. Now, their needs extend to personalized interactions, a synced experience through all digital channels, a need for very responsive service, and so on.
Successful companies constantly improve services and enhance the value of their features. This may generate distractions down the sales pipeline, making it challenging to direct customers toward the final stage of making a sale.
However, if you correctly identify and meet client expectations, you have a significant advantage because you will know how to steer their journey in a more impactful way.
1. Improved customer retention
Numbers show that keeping customers is much cheaper than acquiring new ones.
How much cheaper? 5 to 25 times cheaper
, which makes client retention a priority for every company.
Big companies can afford to go all out with elaborate marketing campaigns because they have already established a solid base of recurring customers and can allocate budgets for new client acquisition.
Companies with tight budgets can achieve sustainable growth by focusing on their existing customers. Happy customers make the best recommendations, which reduces customer acquisition costs, allowing the business to invest in other departments, like R&D (research and development).
Focusing on customer retention will help you reduce churn rates and generate more predictable income for your business.
2. A strong foundation of loyal, recurring customers
Securing a customer is a major win, but you're still only halfway there.
Actionable content will support your customer's subsequent journeys down your sales funnel. This includes drip email campaigns, tutorials, how-to videos, and meaningful interactions.
Be there for your clients whenever they celebrate a major life event. Send them a survey when they purchase one of your products and offer them exclusive deals on new products. If you make them feel included in your business, they are more likely to make repeat purchases.
Recurring clients, especially those choosing a subscription service, will provide a constant source of revenue. Acquiring new clients is always unpredictable and more time-consuming, so make sure you value the ones you already have.
3. New referrals via word-of-mouth
Securing new customers can be challenging, but this is easily achieved with targeted and sustained customer support. This creates positive reviews and an overall trustworthy brand image, which generates referrals.
How do you offer optimal customer support? By answering any relevant question from a client and always being there if there's a problem. However, when that is not possible, there are other viable options:
By understanding customer expectations and meeting them at the right time, you can generate new leads. Every new customer that leaves a positive review for your product will convince others to use it. Referrals start with word-of-mouth.
4. Adapting your product to current market requirements
The best way to create a successful new product is to understand the reasons people choose one product over another. What does it have that the competition doesn't?
Client expectations are influenced by their education level, previous negative experiences with similar products, availability of alternatives, etc. This is known as the buyer or marketing persona, and it represents a detailed description of your target audience.
Enhancing a product requires extensive research into buyer personas and comparative tests with different versions of the same product. Sometimes a small change in a product's name or its features can make it attractive to an entirely different target market.
TextMagic has also developed new features, such as automated text responders
, to meet client expectations. We closely monitor requests for new features and implement them. We couldn't make these substantial improvements without the help of our customers.
Our need to stay on top of customer expectations ultimately led to the development of Touchpoint
, which is a significant enhancement of our current product. This customer engagement platform connects the Sales, Marketing, and Customer Support departments. By using it, companies can integrate various communication channels such as SMS, email, text applications, and calls, into a single environment.
Conclusion
Managing customer expectations is not as tricky as you might think. It starts with understanding what triggers them and continues with constant product improvement to answer growing client needs.
To deliver a successful product, you need to fine-tune it constantly and use the invaluable feedback your clients offer. Pay close attention to every piece of information they give and use it to create a seamless customer journey.
---