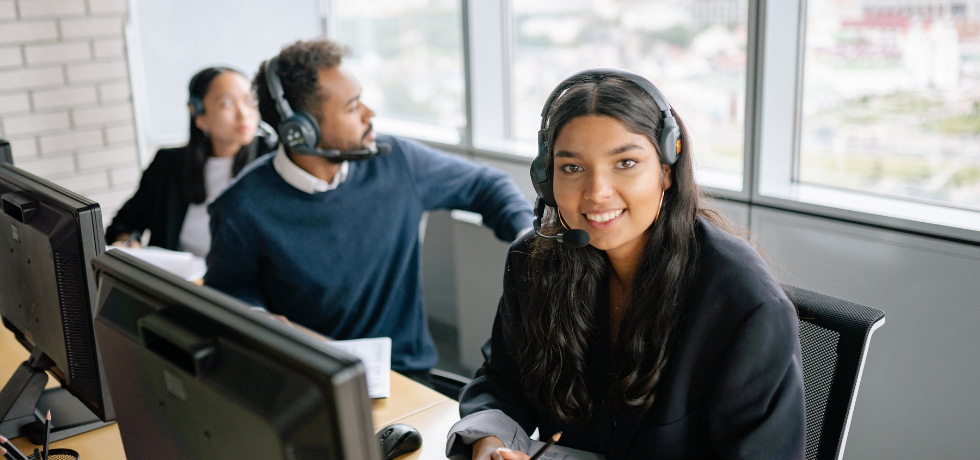 Customer communication does not have to be complicated. At its core, it's simply a conversation between a customer and a support agent. The way these conversations happen, however, has changed significantly over the years.
Customers interact with brands in so many ways. Nearly 66%
of them used around three different communication channels to contact support in the past.
So how can you ensure these interactions are meaningful to your brand? Let's examine six simple ways that will help your support team master customer communication.
What is effective customer service communication?
Effective customer communication is the foundation of every profitable business relationship. It involves actively listening to your clients, deciphering their messages, and taking action to improve their experience with your product or service.
We've all had conversations where answers were implied, not given directly. It happens with clients as well. A good customer service agent must read between the lines and understand what is not being said. Then he can use the information clients hold back to find new ways of helping.
The impact of good customer communication:
Each interaction leaves clients with a positive feeling;
Clients feel you understand their problem and will do what it takes to keep them happy;
It assures clients that, if something goes wrong, you will be there to help;
Customers associate your brand with positive values such as trustworthiness, transparency, availability, etc.;
Finally, it proves that you do not take your customers for granted.
Six key rules to improve customer communication:
Effective communication is just as important as using the right software to handle client requests. Here are six rules you should follow to have improved interactions with customers that need your help:
1. Make customers feel like they're talking to a real human
Nobody wants to feel like they're interacting with a robot. When you connect with another person, they offer more details about their problems, which can help your team improve processes and product features. Here's how to achieve that:
Approach customers as individuals;
Remind customers you are invested in finding a solution and follow-up, even if you don't have the answer yet;
Make every communication feel personal, even if you're using customer support templates;
Reduce the number of touchpoints customers need to go through before finding a solution to their problem;
Improve clarity and understanding by repeating the issue your customer has signaled;
Show that you care and, most of all, make them feel heard. The solution may come as a bonus. People want to feel that their input matters and that you're taking action to improve their experience.
2. Use positive language
Be mindful of the language you use when interacting with customers. There are some expressions you should avoid at all costs.
Instruct your customer service team to avoid using negative words and phrases like Can't, Won't, Don't, Never, etc.
Instead, provide positive answers like: "We are looking into that and working on a solution as we speak", "I'm sorry to hear that, but I assure you, we are doing everything to help fix the issue", etc. to keep customers satisfied even in the absence of an immediate solution.
Sometimes, tone of voice matters more than the message itself.
Always be transparent – if you haven't found a solution, just say so, but always end the communication on a positive note. Customers will remember the effort you put into fixing their problem just as much as the outcome.
3. Create an omnichannel communication experience
Companies that engage their customers across all digital channels keep 89%
of them. Those who reach customers on just a few customer communication channels only achieve a 33% retention rate.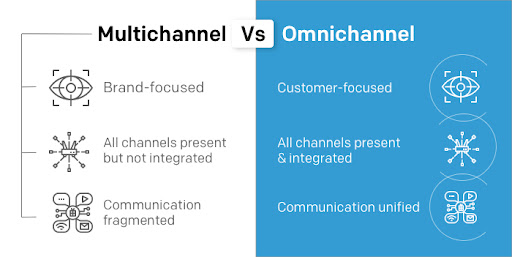 Source: business2community.com
Companies using omnichannel communication get a complete history of client interactions. They can see how clients came into contact with their brand, how many times they asked for support (and on which channels), and how they log complaints or product reviews.
Omnichannel communication makes it easier to be consistent with your brand message across the digital spectrum, regardless of customer touchpoints. No matter how the customer interacts, they will access the same information, message, promotions, etc.
This cohesive approach helps you manage customer expectations and makes clients feel like they can rely on your brand to deliver as promised.
4. Provide hybrid support
Hybrid support is a mix of traditional customer support provided by call center agents and the digitized approach based on self-support materials and automation.
This type of communication offers fast answers to your clients' problems, especially if answers to basic client questions are automated. For example, FAQs, chatbots, and self-support materials give your customers immediate access to the information they're looking for.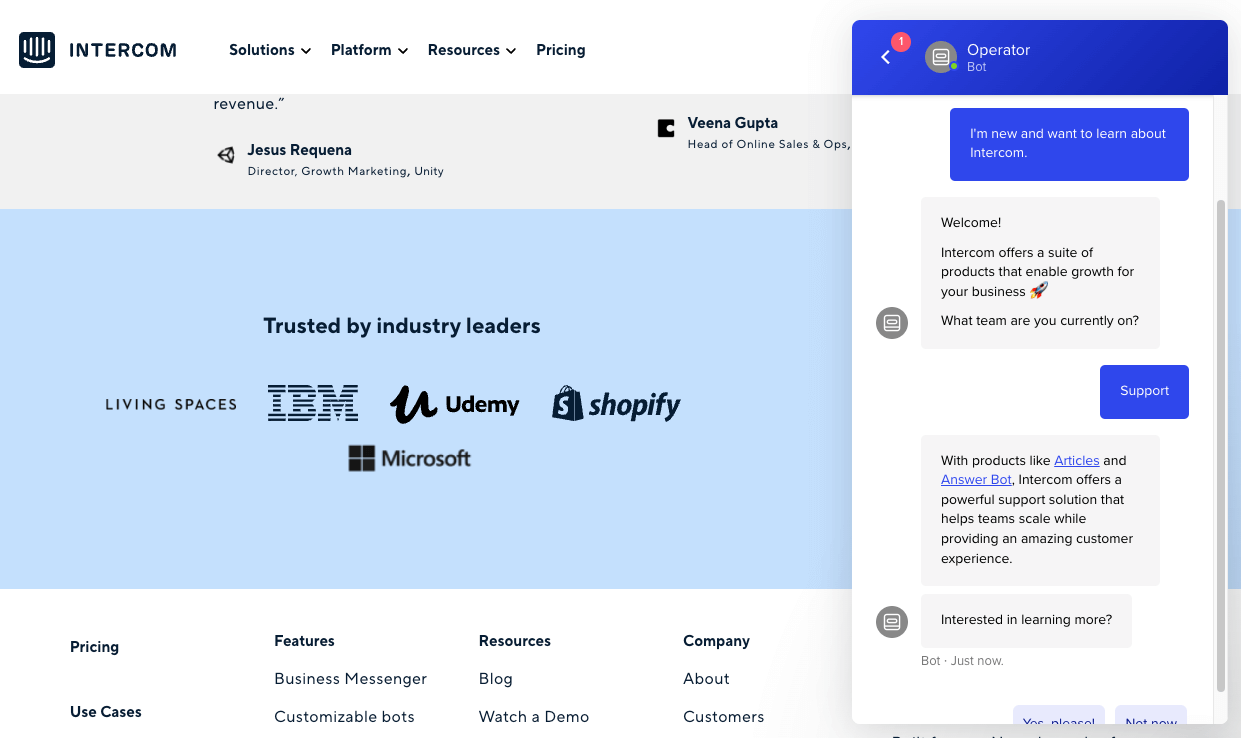 Source: intercom.com
They also work well as a primary gate of communication. Your client's initial contact with a chatbot will establish intent.
Why have they come to you for help?
Can this be solved using an automatic response?
After these questions are answered, a customer service agent can address more complex issues. Although messaging apps and bots have become increasingly popular, 85%
of consumers would rather interact with a live agent than a virtual assistant.
Of course, each customer is unique, so you need to provide multiple options and levels of interaction. To get customer communication right on every level, you need to pair automation with live customer support.
5. Deliver a flawless first-time customer experience
The first time a person interacts with your brand sets the tone for their entire customer journey. What differentiates a great first customer experience from a bad one? Speed, ease of use, and accessibility.
A good first impression must include the following:
A professional attitude – appropriate language, respect politeness;
The right knowledge database – leads to credibility;
FAQs, tutorials, live chat support, and every other type of content that answers questions quickly and effectively;
Information that is accessible across all channels and on every device. Busy customers need intuitive mobile navigation, while clients who are not digitally savvy will prefer traditional leaflets and on-site consultants to handle their requests, so cover every category.
Gorgias does a very good job integrating social media and the most popular apps into its ticket automation flow. All the information an agent needs to handle client complaints or queries is displayed on the main screen, making it easy to manage multiple clients at once.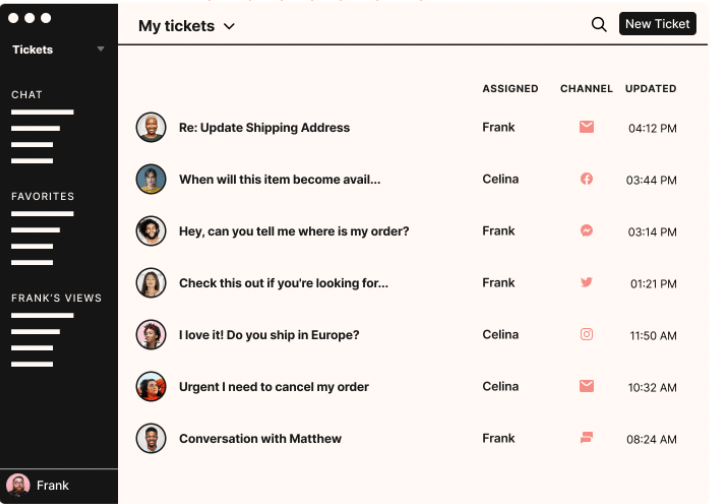 Source: gorgias.com
6. Perfect your customer communication style
Communication styles play a crucial role in customer service. Most people who work in this field focus on the message they are trying to send and forget about using the right approach when dealing with difficult customers.
The main communication styles customer service representatives should know are assertive, passive, aggressive, passive-aggressive, and manipulative.
Assertive is the customer communication style you should use most of the time. It relies on honesty, politeness, and confidence. People who use assertive communication are great listeners, which makes them great communicators.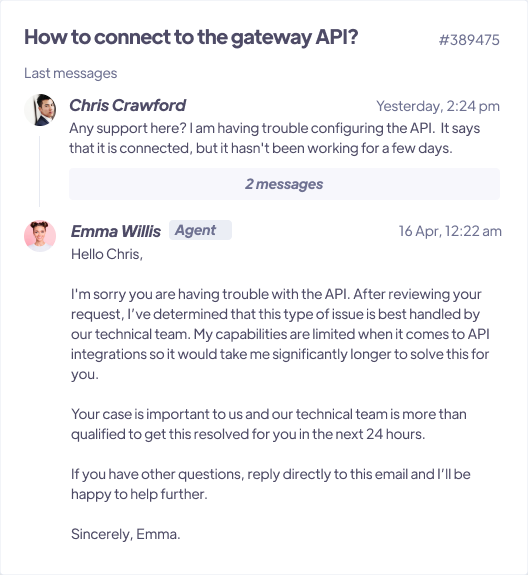 Conclusion
Great customer service is based on personal experiences and good communication. Follow the steps above to improve your team's communication skills and you will improve overall customer service communication.
---