Technology workers keep their partners close in terms of both working hours and proximity. In our recent survey of 1,550 service decision makers from North America and Europe, we asked how they would change their service provider delivery models – where employees will be – in 2022. Where that worker lives. Automated service delivery and renewed talent marketplaces attract a lot of attention and for good reason: they reduce investment and provide flexibility.
But the main shift is from nearby locations to stuffing services (see figure). When they double-click on what they think is most important, two-thirds of respondents who expect a change in their service provider model say onshore, close and onsite stuffing will be most important to their business, with only 17% offshore. The same feeling about labor.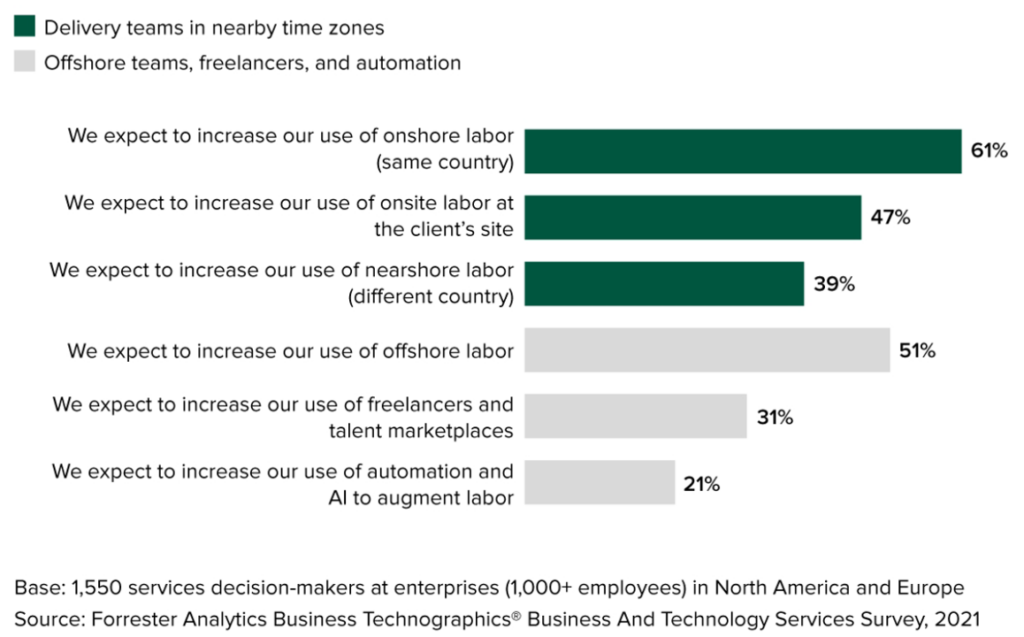 Three factors are driving the importance of service partners in the near time zone
Here's why the near – coastal, near and onsite – service models are on the rise:
The transformation and modern app Dave needs to collaborate accordingly. While "follow the sun" development models, theoretically, enable a 24-hour work cycle, real-time agility is not evolving to send the requirements 12 hours before the next team wakes up. When creating and managing distributed teams working in the same or adjacent time zone, it's easy to connect quickly to stand-up and slack-style messaging to keep everyone moving in the same direction.
Nearby time zones enable more facial time (or facetime) to nurture trust. Trust is an essential pillar in a value-added partner relationship. You trust and rely more on partners when the value they bring goes beyond a simple understanding of your technology stack or organ chart. For the seeds of a co-innovation partnership, where both parties share risks and rewards, you need frequent, real-time conversations and occasional face-time (or facetime) meetings.
Geopolitical and economic uncertainty introduces new risks with service sourcing. The war in Ukraine is the latest solution to the geopolitical uncertainty that affects offshore (or near, depending on your market) operations. Over the next 12 months, executives also acknowledged that the uncertainty of changing epidemic orders and a volatile landscape of political sanctions would pose new risks to service providers outside their own borders. The solution is to diversify service positions so that when someone goes offline, others can fill in the blanks.
We have highlighted these dynamics in our recent report, with Onshore and NearShore services gaining full focus as business transformation demands a strong net partner strategy. We have a lot more research on how to optimize your engagement with your service partners. Give us a shout out, and we'll help you make the smartest choice for your needs
[Thanks to my colleagues Amanda LeClair, Taanya Malhotra, Jeffrey Rajamani, Ashutosh Sharma, and Kara Wilson for their help with this research.]